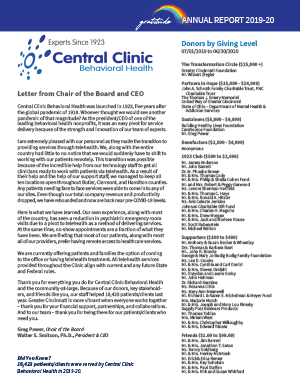 Letter from Chair of the Board and CEO
Central Clinic Behavioral Health was launched in 1923, five years after the global pandemic of 1918. Whoever thought we would see another pandemic of that magnitude? As the president/CEO of one of the leading behavioral health nonprofits, it was an easy pivot for service delivery because of the strength and innovation of our team of experts.

I am extremely pleased with our personnel as they made the transition to providing services through telehealth. We, along with the entire country had little to no notice that we would suddenly have to shift to working with our patients remotely. This transition was possible because of the incredible help from our technology staff to get all clinicians ready to work with patients via telehealth. As a result of their help and the help of our support staff, we managed to keep all ten locations open throughout Butler, Clermont, and Hamilton counties. Any patients needing face to face services were able to come in to any of our sites. Even though our total company revenue and productivity dropped, we have rebounded and now are back near pre-COVID-19 levels.
Here is what we have learned. Our own experience, along with most of the country, has seen a reduction in psychiatric emergency room visits due to a pivot to telehealth as a method of delivering services. At the same time, no-show appointments are a fraction of what they have been. We are finding that most of our patients, along with most all of our providers, prefer having remote access to healthcare services.
We are currently offering patients and families the option of coming to the office or having telehealth treatment. All telehealth services provided throughout the Clinic align with current and any future State and Federal rules.
Thank you for everything you do for Central Clinic Behavioral Health and the community-at-large. Because of our donors, key stakeholders, and friends like you, our staff helped 18,423 patients/clients last year. Greater Cincinnati is more vibrant when everyone works together – thank you for your financial support, partnerships, and collaborations. And to our team – thank you for being there for our patients/clients who need you.
Greg Power, Chair of the Board
Walter S. Smitson, Ph.D., President & CEO
Central Clinic Behavioral Health provided services to 18,423 clients/patients in 2019-20.