Central Clinic Behavioral Health was named a "Top Workplace for 2018."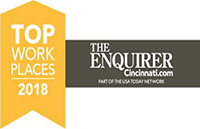 Each year the Cincinnati Enquirer invites employees across their readership area to nominate their respective company as a "Top Workplace." This year over 1,100 companies and organizations with at least 50 employees participated in the survey process. The employee survey sought responses in seven areas, including organizational health factors that measure how well employees are working together toward a common cause. Of the employees who received questionnaires, 38,695 responded.  This year, 125 Cincinnati-area employers scored high enough to earn Top Workplace honors. Central Clinic Behavioral Health was included in the category of "mid-sized" companies – nonprofits. Dr. Walter Smitson, president/CEO credits his staff for this high honor.
---
Client satisfaction is our goal
As part of Central Clinic Behavioral Health's ongoing commitment to quality improvement in the services it provides to children, adults, and families, we ask clients about their satisfaction with our services.  A wide sample is obtained of clients from each of the Clinic's clinical programs.  In addition to performance for the Clinic overall, responses for each clinical division are examined independently to make best use of the individual division's data for their planning and improvement.  We are proud to share our most recent results:
91% of respondents agree that they are satisfied with the services received
94% of respondents agree staff is respectful of their race, ethnicity, religion, and/or sexual orientation and/or gender identity
92% of respondents agree that staff works with them to make decisions regarding treatment
88% of respondents agree that the staff at Central Clinic Behavioral Health helps them to improve their life
---
Thank you to our funders
Community support is very important for sustainability. Central Clinic Behavior Health enjoys the support of many people, foundations, and businesses. We want to express our gratitude to PNC Charitable Trust for their investment in our LGBTQ+ Center, which addresses the challenges this population faces in terms of mental health issues. Funds were also received through a partnership with Walnut Hills High School – they selected the Ready to Learn program to receive an award from Magnified Giving.