Dr. Walter Smitson to retire after 55 years of service to Central Clinic Behavioral Health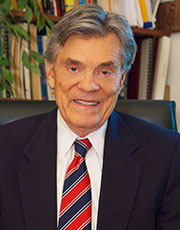 CEO, President guided CCBH to unprecedented growth, community impact
Central Clinic Behavioral Health (CCBH) today announces that CEO and President Walter S. Smitson, PhD will retire at the year's end after 55 years of service to the oldest outpatient mental health clinic west of the Alleghenies.
Central Clinic's board of directors will form a search committee in June and enlist an executive search firm to conduct a broad search for his successor. Dr. Smitson will continue to lead the organization until the successor is in place.
Dr. Smitson has made an extraordinary impact on Central Clinic Behavioral Health, a nonprofit organization with a mission to provide choices and options through a compassionate approach to behavioral health services that result in lasting recovery and resiliency.
"I am incredibly proud to have served Central Clinic for over five decades and humbled by the strides we have made to serve thousands of children, adults and families. I am tremendously grateful for the opportunity to make an impact in this organization since 1967. Central Clinic is my life's work. I cannot express how much serving it, and its clients, has meant to me," Dr. Smitson said. "It's a testament to our dedicated and innovative staff that Central Clinic is poised for great impact in the future."
Dr. Smitson joined Central Psychiatric Clinic (now Central Clinic Behavioral Health) as an assistant professor at the University of Cincinnati's Department of Psychiatry in 1967 and has been its executive director since 1973. A collaborative relationship between the University of Cincinnati (UC) and Central Clinic started with the nonprofit's first director and this relationship continues today.
Driven by a passion for helping people reach their full potential, Dr. Smitson expanded Central Clinic's reach, budget and staff, increasing the Clinic's budget from $500,000 to $20 million and growing its professional staff from 35 to 250 (plus psychiatric residents from UC's College of Medicine in addition to social work, counseling and psychology interns from area universities). The staff serves more than 17,500 clients each year at 11 Greater Cincinnati locations in Hamilton, Butler and Clermont counties.
During Dr. Smitson's tenure, Central Clinic's services have grown to include adults, children and families through 24/7 support, addiction and recovery services, mental health services, culturally responsive services, forensic evaluation as well as other specialized services. Central Clinic has adapted to the changing needs of the community. It was the first behavioral health organization in the area to provide culturally sensitive services and also identified and filled a need to serve the growing number of Latino families in Greater Cincinnati community and schools.
Central Clinic's vital role in the community is evidenced by its longevity. Founded in 1923 through a five-year, $30,000 investment from Community Chest (now United Way), CCBH continues to receive support from the United Way. The organization is celebrating its 100th anniversary in 2023.
"We are deeply thankful for Dr. Smitson for his long and excellent service to Central Clinic and our community. We appreciate his contributions and wish him well in the next phase of his life," said CCBH Board Chair Michael Chaney. "Central Clinic is well-positioned for the future. The organization's reputation as a comprehensive leader in behavioral health services transcends the region and encompasses Ohio. This transition is an opportunity to build on the strong foundation provided by Dr. Smitson while remaining committed to Central Clinic's mission."