Letter from Chair of the Board and CEO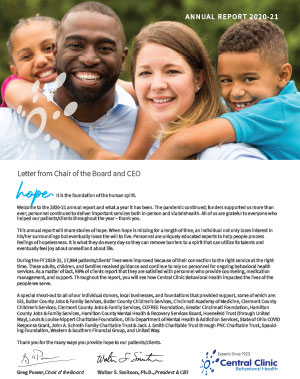 Download Annual Report
hope. It is the foundation of the human spirit.
Welcome to the 2020-21 annual report and what a year it has been. The pandemic continued; funders supported us more than ever; personnel continued to deliver important services both in-person and via telehealth. All of us are grateful to everyone who helped our patients/clients throughout the year – thank you.
This annual report will share stories of hope. When hope is missing for a length of time, an individual not only loses interest in his/her surroundings but eventually loses the will to live. Personnel are uniquely educated experts to help people process feelings of hopelessness. It is what they do every day so they can remove barriers to a spirit that can utilize its talents and eventually feel joy about oneself and about life.

During the FY 2020-21, 17,884 patients/clients' lives were improved because of their connection to the right service at the right time. These adults, children, and families received guidance and continue to rely on personnel for ongoing behavioral health services. As a matter of fact, 98% of clients report that they are satisfied with personnel who provide counseling, medication management, and support. Throughout the report, you will see how Central Clinic Behavioral Health impacted the lives of the people we serve.
A special shout-out to all of our individual donors, local businesses, and foundations that provided support, some of which are: bi3, Butler County Jobs & Family Services, Butler County Children's Services, Cincinnati Academy of Medicine, Clermont County Children's Services, Clermont County Jobs & Family Services, COFREE Foundation, Greater Cincinnati Foundation, Hamilton County Jobs & Family Services, Hamilton County Mental Health & Recovery Services Board, Huenefeld Trust (through United Way), Louis & Louise Nippert Charitable Foundation, Ohio Department of Mental Health & Addiction Services, State of Ohio COVID Response Grant, John A. Schroth Family Charitable Trust & Jack J. Smith Charitable Trust through PNC Charitable Trust, Spauld- ing Foundation, Western & Southern Financial Group, and United Way.
Thank you for the many ways you provide hope to our patients/clients.
Greg Power, Chair of the Board
Walter S. Smitson, Ph.D., President & CEO